On October 12, 2016 the Aurora Post Office was named after Kenneth M. Christy.
The ceremony was streamed live on Facebook. Click here to view.
The Beacon News reported...Aurora Post Office named in honor of former letter carrier
In Honor of Ken Christy ... Rhiannon Gaiter created a mini documentary in of honor Ken for her Leadership Academy project. When she started at the post office, Ken was her President for Branch 219. If you have a moment, click here to check out the film.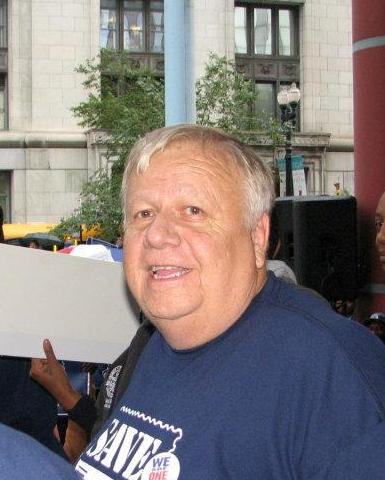 IN MEMORY OF KEN CHRISTY
The Illinois State Association of Letter Carriers lost a good man! It is with great sorrow and sadness we report that Ken Christy, the State Association's President passed away Saturday, March 26th.
Visitation was held on Thursday, March 31st at Dieterle Memorial Home in Montgomery, IL and the funeral was held on Friday, April 1st at Our Lady of Good Counsel located in Aurora, IL.
So many came to pay their respects which is a true testament to the kind of person that Ken Christy was. He was loved and honored by some many. There were many politicians ranging from Federal, State and local level offices who came to pay their respects. There were current and former Branch Presidents from across the State of Illinois, National President Fred Rolando, State Presidents from California, Indiana, Wisconsin and Tennessee, former Branch President from Nevada, State Officers, Region 3 NBA and RAA's and letter carriers from across the state.
Please continue to keep Ken's wife, Bonnie and his family in your prayers especially in the coming weeks and months as Ken's absence is felt.
We will be compiling information to honor Ken's life in the coming months. We would love to include memories, stories and pictures. Please email ilnalcwebmaster@gmail.com with anything you would like to share.
[Click here to go to Ken's Memorial Page]
Please click on the links below to read about the life of Ken Christy.
Click here to read about Ken in The Daily Herald.
Click here to read about Ken in the Chicago Tribune/The Beacon News.
Click on logo for more information.
America's postal employees are still pressing
Congress to Save America's Postal Service.
The key is to....
Save Saturday Delivery
---
Welcome to the Illinois State Association of Letter Carriers website.
This website has been reorganized and updated to give you current information in addition to providing links and resources that may be helpful.
The intention is for it to be as interactive as possible so that you can keep in touch with your fellow Brothers and Sisters.
Please feel free to contact us and give us your feedback or to make suggestions. It is most welcome as our main goal is provide the information that you need or want to see.

IPALC
PO Box 561
Orland Park, IL 60462
Letter Carrier Political Fund
100 Indiana Ave., NW
Washington, DC 20001-2144
Send items that you would like to see included to ilnalcwebmaster@gmail.com.